Liverpool's horror run of form continued on Saturday when they lost 1-0 to Sunderland in their English Premier League fixture. Sunderland went into the lead at the 5-min mark when Darren Bent's strike deflected off a beach ball(yes, a beach ball!) and beat the Liverpool goalkeeper. Despite repeated protests from the Liverpool players, the referee had no choice but to give Sunderland the goal. The fact that the colour of the beach ball was red and it must have therefore come from a Liverpool fan also would have hurt the players a lot.
The defeat was Liverpool's third in a row in all competitions. Without Steven Gerrard and Fernando Torres, Liverpool was not expected to play well, but no on e was expecting a 1-0 defeat at the hands of Sunderland.
Despite some desperate efforts near the end of the game to earn a point, Liverpool were unable to do so and now seriously need to improve their football to have any chance of threatening Manchester United for the top Premier League spot.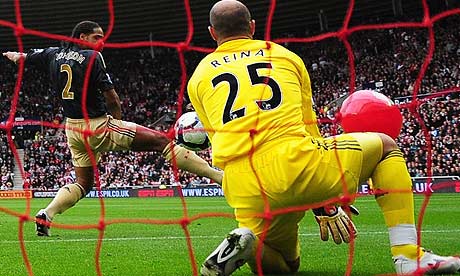 Now if you are wondering why Manchester United and not Chelsea are at the top of the Premier League standings, then you need to know that Chelsea were given a good beating by Aston Villa resulting in a 2-1 scoreline in favour of the home team Aston Villa. Didier Drogba put Chelsea ahead in the 15th minute but two goals from setpieces by Richard Dunne(32nd min) and James Collins(52nd min) snatched the lead from the Blues and was enough to give Villa the win.
ManU now sit pretty at the top of the standings table of the English Premier League.
Subscribe now if you dont want to miss out on future stories about the English Premier League!